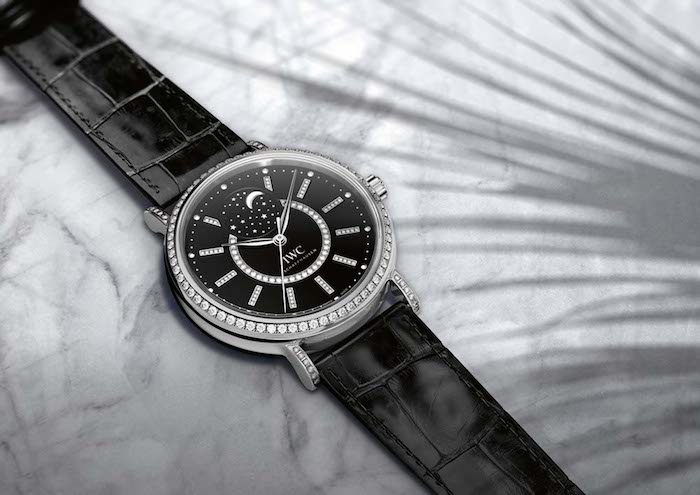 Inspired by the mystic island of Portofino and its luxury lifestyle, IWC takes its already successful Portofino watch line and releases it in a new mid-sized case perfect for women. This unveiling marks the 30th anniversary of the Portofino collection (first launched in 1984), and does so in style. Not only did the brand scale down the case, but also, it went to town on offering women mechanical complexities and the perfect touch of diamonds.
Accents on the 34 mm and 37mm watches include feminine details such as diamond-set bezels, and mother of pearls dials. Better yet, though, are the simple complications that today's savvy woman loves: moonphase, Day & Night indications, dual time zones and more.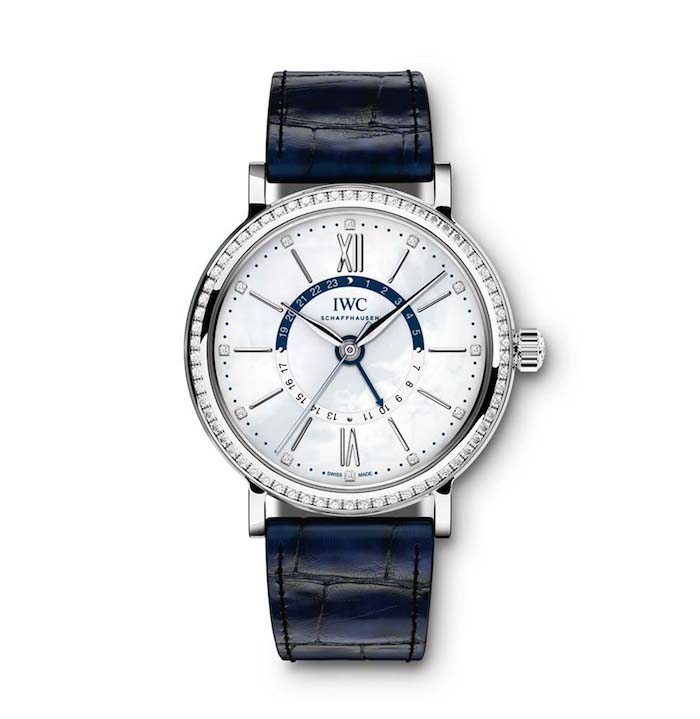 These elegant mechanical Portofinos for women are created in a variety of materials, including white gold, red gold, and stainless steel. Santoni, the revered Italian shoemaker, will be providing ultra high quality alligator straps for all non-bracelet versions.
While IWC has long been known as a men's brand, this is not the company's first foray into women's watches. In fact, back in the 1980's the brand released elegant women's sized DaVinci watches. In recent decades, however, IWC has focused squarely on men's watches.  Today, however, when watch  brands are finally recognizing  mechanical watches for women are in demand, IWC — "engineered for men" —  may have been between a bit of a rock and a hard place, so to speak.
Clearly the brand needs a timepiece for women who love IWC and for men who love it and want the woman in their life to love it, too. Thus, IWC went all out and investigated what women want. They built the Portofino in two smaller sizes with the complications women of today want: the romantic moon phase; the useful dual time; etc. Then what did the brand do? It copped out — it called the line the new Portofino Mid-size instead of declaring the commitment to women. While this may have been a corporate decision (perhaps even made by higher ups in the Richemont Group who want IWC to remain squarely a men's brand), the brand has clearly missed the opportunity to say: "Now engineered for women, too."
Too bad IWC felt pigeon-holed. But, women– you should not hold this against the brand. In fact,  the watches are superb inside and out. For those in the know — these timepieces have the mechanical prowess of a top-notch Swiss brand behind them — one that produces watches you can be proud to wear.  I'd snap one of these beauties up right away if I were you.