Here in Geneva this week at the SIHH (Salon International d'la Haute Horlogerie), Richard Mille has caused quite a stir with his incredible RM 19-02 Tourbillon Fleur for women. This sexy timepiece  has got it all: beauty, brains and a bit of brawn.
The new RM 19-02 Tourbillon Fleur embraces so many aspects of watchmaking that include technical prowess, amazing artistry, haute joaillerie  and — well – mechanics.  The bold floral dial is Mille's interpretation of the Magnolia — a flowering tree that has been in existence for millions of years.   But this grand symbol of nature has to coincide with cogs in a wheel, progress. As such, the watch is equipped with a flying tourbillon escapement (a device that compensates for errors in timekeeping caused by the effects of gravity when the watch is in different positions on the wrist) that is visible and always moving (in the lower left of the dial). The escapement features five delicate hand-made petals.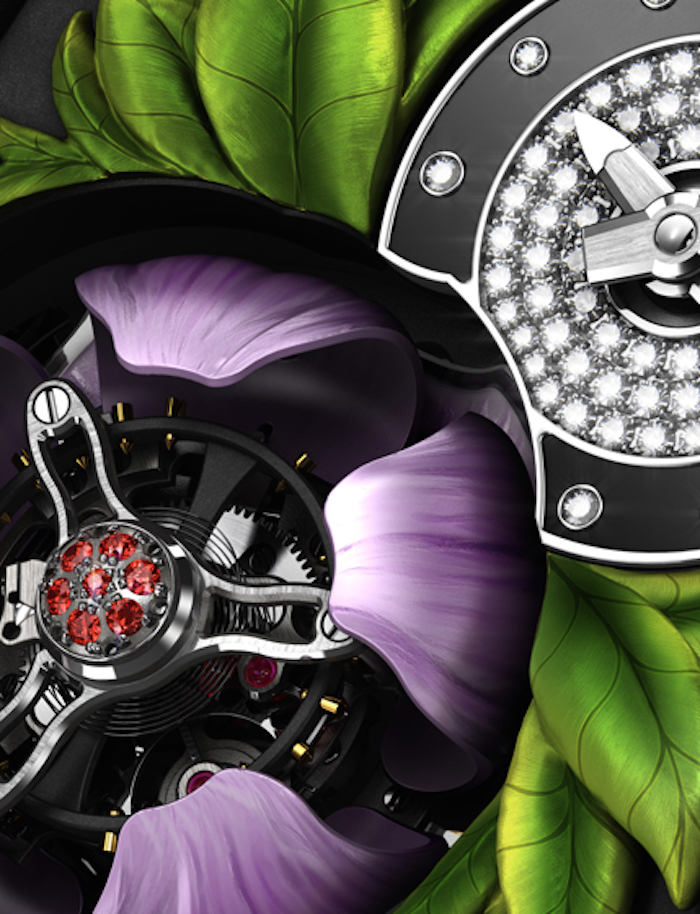 Additionally, the wearer can (on demand by pushing the button at 9:00) open and close the magnolia petals. In a stroke of genius, the Magnolia not only opens, but also the entire flying tourbillon with its stone-set stamen actually moves upwards 1mm when fully opened, copying the natural motion of the flower's arching upwards of its stamen to increase its chances of pollination.
The unique  grade 5 titanium tourbillon caliber is composed of  5 levers that  surround the underside of the petals, while another system combined with a long pinion is used to raise the flying tourbillon and stamen upwards within the flower's circumference. All of the energy to make these moves is sourced from a separate, second winding barrel. The RM 19-02 Fleur is limited to a production of 30 pieces worldwide.