Christophe Claret is a  master at creating complicated timepieces for men — and has offered a host of watches on which one can actually play casino games. Now, this master of watchmaking continues  his gaming concept of playful watches for the wrist – this time releasing his first ever women's watch: Margot. For its creation, he was inspired by the romantic act of plucking the petals of a daisy one by one to find the answer to the riddle "He loves me, he loves me not."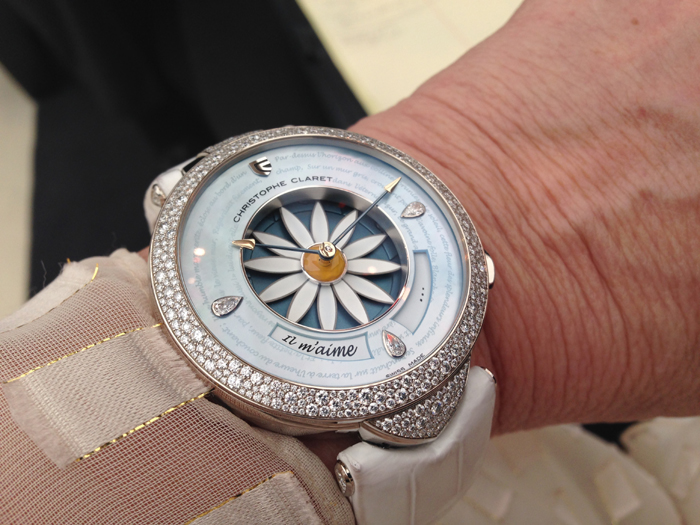 To incorporate this concept into a wristwatch, Claret developed a new complicated and ingenious mechanism that helps to predict the answer. With the press of a pusher at 2:00, the watch comes to life. Each time the wearer presses the pusher, a single petal or a pair of petals randomly falls off the daisy that fills the center of the dial and disappears beneath the dial. With each press, a melodic chime resonates in typical Claret style. He is, after all, the master of musical timepieces.
Finally, the answer appears in French calligraphy at 4:00. It seems that in France, the game does not yield a simple yes or no answer. As befits the French, they have many modalities of love, ranging from a not at all, to a little to passionately — and this watch gives one of those multiple answers.  The complex movement of the Margot consists of more than 700 parts.
The watch, created in four versions each in a limited edition of 20 pieces, houses the EMT17 automatic winding caliber with an incredible 731 parts and 95 jewels. Built with two barrels, it offers 72 hours of power reserve. The 42.5mmm case is offered in white gold with or without baguette diamonds. The dial is blue mother of pearl and the daisy is white with a gold center. It will retail for approximately $315,000.
We invite you to enjoy the video below that demonstrates how the Margot works.
VIDEO COMING SHORTLY