Last month at the SIHH exhibition in Geneva, I had the rare and wonderful experience of speaking at great length with Baume & Mercier Senior Designer Sara Sandmeir about the newest revamped collection of Classima watches being unveiled by the brand this year. While the redesigned iconic collection offers men's Classima watches in 40mm sizes with great pin stripe dials, what is even better about the collection is the new women's line.
"It took us two years to design the watch," says Sandmeir with   enthusiasm. One might ask why it took two years to design a women's version of a men's existing collection. The thing is, it is not just a scaled down watch.  "We started with the marketing brief to get an overview of the consumer the price range, what women like and want. But then, as a designer, we also have to think about the movement the fit, the feel," says Sandmeir, who admitted that while they knew they wanted to keep automatics in the line for men, they also knew they wanted both automatic and quartz versions for women.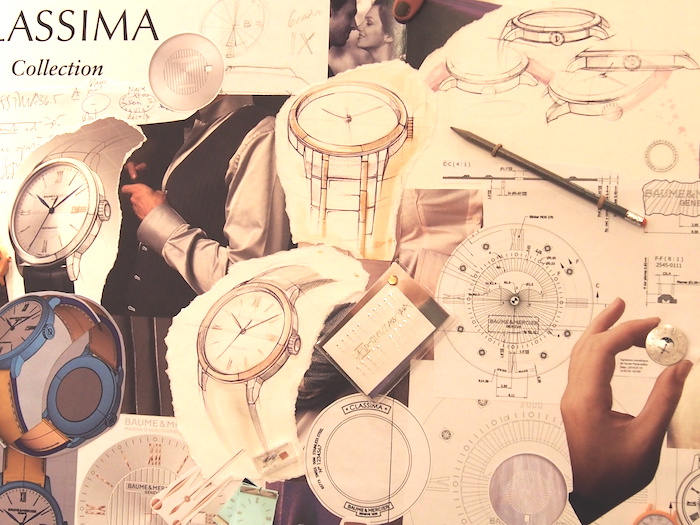 So the process begins with knowledge of the market, the trends, and of the needs and wants of the consumer, explains Sandmeir – who is full of energy, enthusiasm and passion for the brand and is clearly an artist first and foremost. (She sports a stunning two-finger ring she has made for herself that matches her green and gray cape ensemble with bold red hand crafted handbag – all exuding her artistic side. )
Armed with knowledge, the next step in the process is the designing, sketching, re-working. "It is a fun process that blends so many elements together," says Sandmeir. "There is a lot of work to do just to get o a two-dimensional design that we can then scale. Once we have a beautiful rendering of the perfect size and shape we can go to a 3-dimensional printing of the watch."
I got to see, touch and feel those three-dimensional pieces and I have to say they are superb and they have changed the way scale models are created. In years past, to get a 3D watch made took time, all the renderings had to go out and usual a mold was made and sometimes remade to have the perfect dimensions. Now, the specs are programmed in and within eight hours a 3D model is in your hands (or on your wrist). Even Sandmeir says this is a very exciting point in time.
Once a model is created, paper dials are created in the desired colors and designs to determine how the watch will look. For Sandmeir, she knew a key color for the women's collection would be violet.
"Black is sad and old, and everyone has red and blue, but violet is a women's color and is fresh and has personality," says Sandmeir. Of course a host of other steps go into the making, but in the end, the collection is complete and alluring.
For women Classima offers several 36.5mm pieces, including an automatic three-hands with date and sunburst dial, a version with diamond markers and etched mother-of-pearl sunray dial, a quartz-powered moonphase indicator model. Varieties include stainless steel and steel and gold two-tone versions.
Women, the Baume & Mercier Classima offers depth, beauty, diversity and serious style. Even better, the top-quality watch line is priced incredibly affordably. It retails from $2,200 to $4,150.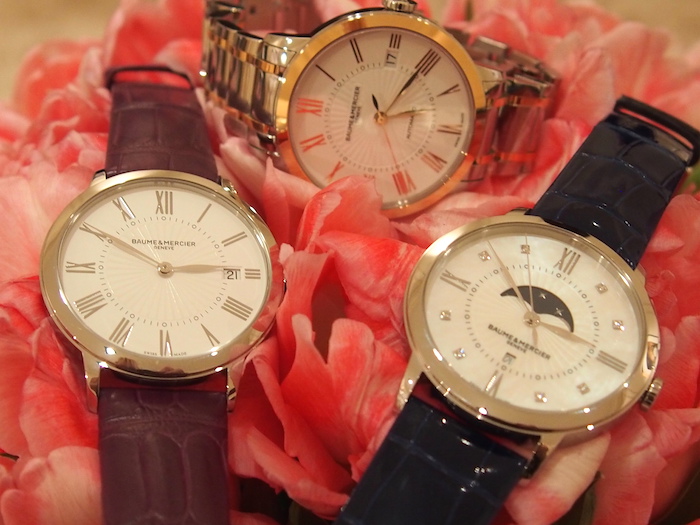 #