By Kimberly Charles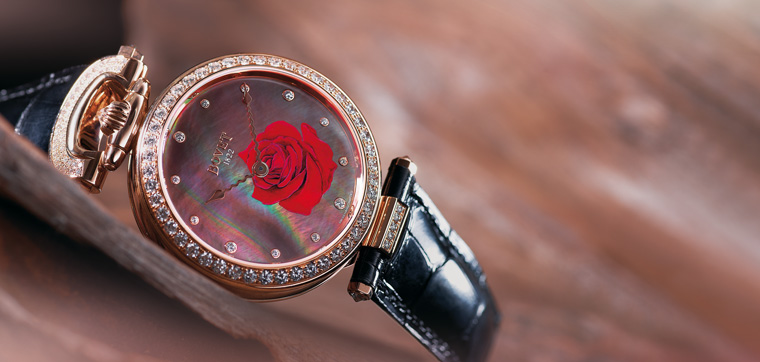 Not a household name like some other watch brands may be, Bovet 1822 is just as special, maybe more so. The brand — founded May 1, 1822 by Edouard Bovet and then re-established by today's owner Pascal Raffy — offers a superb blend of classic elegance and visionary performance. By combining creative cases, stunning art work that follows centuries of tradition, and — naturally — astute mechanical watchmaking, Bovet breathes life into its timepieces.
One of my personal favorites is the  Amadeo Fleurier collections — especially the Amadeo Fleurier 39 "Mille Fleurs." Bovet has always been known for its attention to detail, and in such, it comes as no surprise that the Bovet 1822 Amadeo Fleurier 39 collection is individually handcrafted to perfection. Bovet strives for beauty and has clearly demonstrated that in the craftsmanship of each watch, which features a rose or lotus on the dial that has been either carefully hand painted by a single artisan over hundreds of hours of tedious work, or has been elegantly set with diamonds.  Dials are typically either black or white mother-of-pearl, often with diamond markers. While the dials are truly unique (each one painted individually), it is the case of the Amadeo Fleurier that steals our hearts.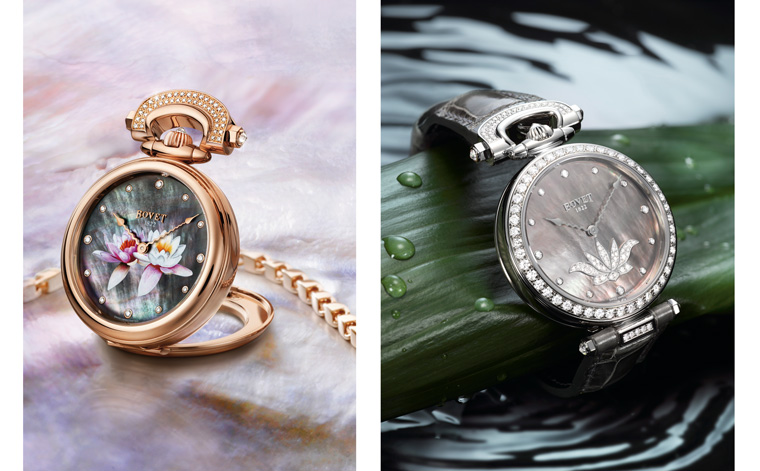 The casing of this particular collection is truly awesome, as it is a convertible case. This means that the wristwatch isn't just a wristwatch. This case converts from a wristwatch into a pocket watch or pendant watch,  or a table clock with just a simple maneuver. It is the perfect travel companion as it can morph from day wear to evening wear to night-stand needs. And, while few would actually wear it in the water, this beauty is, in fact,  water resistant to 30 meters. Retail value … just about a million USD, and worth every single penny.